Automatic Climate Control System
The vehicle's heating, cooling, defrosting, and ventilation can be controlled with this system.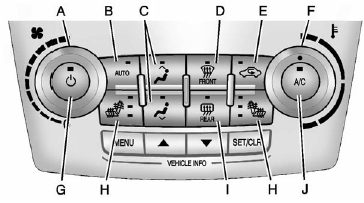 A. Fan Control
B. AUTO (Automatic Operation)
C. Air Delivery Mode Controls
D. Front Defrost
E. Recirculation
F. Temperature Control
G. Power
H. Driver and Passenger Heated Seats
I. Rear Window Defogger
J. Air Conditioning
See also:
Root Directory
The root directory of the disc is treated as a folder. If the root directory has compressed audio files, the directory displays as F1 ROOT on the radio. If a disc contains both uncompressed CD audio ...
When the System Does Not Seem to Work Properly
The following messages may be displayed on the DIC: SERVICE PARKING ASSIST: If this message occurs, take the vehicle to your dealer to repair the system. PARK ASSIST OFF: If the URPA system does n ...
Compressed Audio or Mixed Mode Discs
The radio can play discs that contain both uncompressed CD audio and MP3/WMA files. If both formats are on the disc, the radio plays both file formats in the order in which they were recorded to the d ...