Low Fuel Warning Light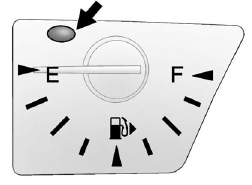 English Shown, Metric Similar
This light comes on for a few seconds when the ignition is turned on as a check to indicate it is working. If it does not come on, have it fixed.
The low fuel warning light is a circle located on the fuel gauge. This light comes on and a chime sounds periodically when the vehicle is low on fuel. The light goes off when fuel is added to the fuel tank.
For vehicles with a Driver Information Center (DIC), see Fuel System Messages on page 5‑29 for more information.
See also:
A Transformative Engine
You might be thinking, "How can GMC's compact pickup feel like a muscle car?" Well, there's more to it than stuffing a 5.3-liter V-8 under the hood, but that engine goes a long way towar ...
Bluetooth (Overview)
For vehicles equipped with the MyLink or IntelliLink infotainment system, see the separate MyLink/ IntelliLink Features and Functions Guide for more information. For vehicles equipped with Bluetoot ...
Tire Size
The following is an example of a typical passenger vehicle tire size. (A) Passenger (P&-Metric) Tire: The United States version of a metric tire sizing system. The letter P as the first chara ...