Lumbar Adjustment
Power Lumbar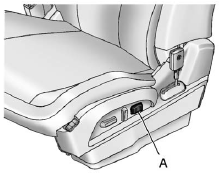 Eight-Way Power Seat Shown, Four-Way Similar
A. Lumbar Switch
If available, press and hold the front or rear of the switch (A) to increase or decrease lumbar support. Release the switch when the seatback reaches the desired level of lumbar support.
See also:
Resuming a Set Speed
If the cruise control is set at a desired speed and then the brakes are applied, the cruise control is disengaged without erasing the set speed from memory. Once the vehicle speed is 40 km/h (25 mph) ...
Care of CDs and DVDs
If playing a CD-R, the sound quality can be reduced due to CD-R or CD-RW quality, the method of recording, the quality of the music that has been recorded, and the way the CD-R or CD-RW has been handl ...
Shifting Out of Neutral
To shift the transfer case out of N (Neutral) do the following: 1. Set the parking brake and apply the regular brake pedal. 2. Turn the ignition to ON/RUN with the engine off, and shift the transmis ...