Vehicle Identification Number (VIN)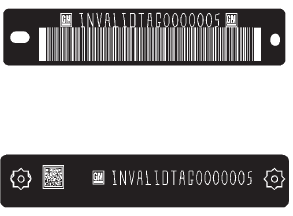 Vehicle Identification Number (VIN)
This legal identifier is in the front corner of the instrument panel, on the left side of the vehicle. It can be seen through the windshield from outside. The VIN also appears on the Vehicle Certification and Service Parts labels and certificates of title and registration.
See also:
Full-Size Spare Tire
Your vehicle, when new, had a fully-inflated spare tire. A spare tire may lose air over time, so check its inflation pressure regularly. See Tire Pressure on page 10‑62 and Vehicle Load Limits o ...
Buying New Tires
GM has developed and matched specific tires for the vehicle. The original equipment tires installed were designed to meet General Motors Tire Performance Criteria Specification (TPC Spec) system r ...
XM Satellite Radio Service
XM is a satellite radio service based in the 48 contiguous United States and 10 Canadian provinces. XM satellite radio has a wide variety of programming and commercial-free music, coast to coast, ...