Disconnecting the RVC
The rear vision camera must be disconnected if the tailgate needs to be removed.
To disconnect the camera:
1. Remove the license plate.
2. Disconnect the camera connectors from the chassis harness, located behind the license plate, by pressing on the release tab on each connector.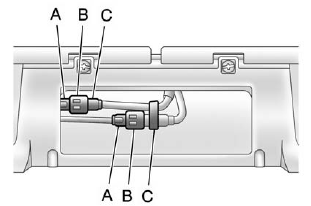 A. Chassis harness connector
B. Release tab
C. Camera connector
3. Plug the two exposed chassis harness connectors together to prevent contamination.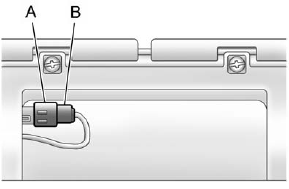 A. Chassis harness connector
B. Release tab
4. Feed the wiring harness through the pickup box, then plug the camera connectors together to prevent contamination.
5. Remove the tailgate. See Tailgate on page 2‑10 for more information.
6. Reinstall the license plate.
Reverse this procedure to reinstall the RVC and make sure the grommet and connection are secure.
See also:
Engine Oil Life System
The engine oil life system calculates engine oil life based on vehicle use and displays the CHANGE ENGINE OIL SOON message when it is time to change the engine oil and filter. The oil life system ...
Interior Care
To prevent dirt particle abrasions, regularly clean the vehicle's interior. Immediately remove any soils. Note that newspapers or dark garments that can transfer color to home furnishings can also pe ...
Washing the Vehicle
To preserve the vehicle's finish, wash it often and out of direct sunlight. Notice: Do not use petroleum based, acidic, or abrasive cleaning agents as they can damage the vehicle's paint, metal, or p ...