Turn and Lane-Change Signals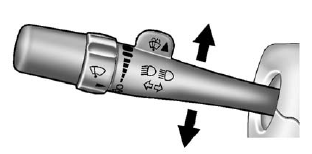 An arrow on the instrument panel cluster flashes in the direction of the turn or lane change.
Move the lever all the way up or down to signal a turn.
Raise or lower the lever for less than one second until the arrow starts to flash to signal a lane change. This causes the turn signals to automatically flash three times. It will flash six times if tow-haul mode is active. Holding the turn signal lever for more than one second will cause the turn signals to flash until you release the lever.
The lever returns to its starting position whenever it is released.
If after signaling a turn or a lane change the arrows flash rapidly or do not come on, a signal bulb could be burned out.
Have the bulbs replaced. If the bulb is not burned out, check the fuse.
See Fuses and Circuit Breakers on page 10‑47.
Turn Signal On Chime
If the turn signal is left on for more than 1.2 km (0.75 mi), a chime will sound at each flash of the turn signal and the message TURN SIGNAL ON will also appear in the Driver Information Control (DIC). To turn the chime and message off, move the turn signal lever to the off position.
See also:
Using Softkeys to Play a DVD-A (Audio)
Once a DVD-A is inserted, the radio display menu shows several tab options for playback. Press the softkey located under any tab option during DVD-A playback. (Play/Pause): Press either the play or ...
Door Ajar Messages
DOOR OPEN A door open symbol will be displayed on the DIC showing which door is open. If the vehicle has been shifted out of P (Park), a DOOR OPEN message will also be displayed. Close the door c ...
DVD Distortion
Video distortion can occur when operating cellular phones, scanners, CB radios, Global Position Systems (GPS)*, two-way radios, mobile fax machines, or walkie talkies. It might be necessary to turn o ...