Remote Keyless Entry (RKE) System
The Remote Keyless Entry (RKE) transmitter will work up to 60m(195 ft) away from the vehicle.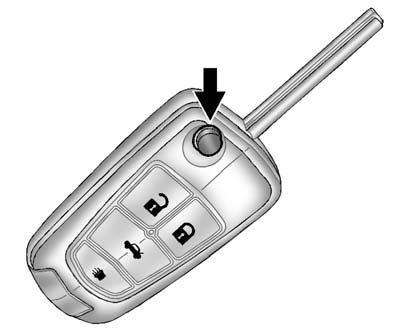 Press this button to extend the key. The key can be used for the ignition and all locks.

: Press to unlock the driver door or all doors.

: Press to lock all doors.
Lock and unlock feedback can be personalized.

: For vehicles with the power liftgate, press and hold until the liftgate begins to move to open the liftgate.
For vehicles without the power liftgate, first press

, then press and hold

to unlock the liftgate.

: Press and release to locate the vehicle. Press and hold for at least two seconds to sound the panic alarm. Press

again to cancel the panic alarm.
See Keys on page 2‑2 and Remote Keyless Entry (RKE) System Operation on page 2‑3.
See also:
Total Weight on the Vehicle's Tires
Inflate the vehicle's tires to the upper limit for cold tires. These numbers can be found on the Certification label or see Vehicle Load Limits on page 9‑10 for more information. Do not go over ...
Fuel Range
Press the trip/fuel button until FUEL RANGE displays. This display shows the approximate number of remaining kilometers (km) or miles the vehicle can be driven without refueling. The display will show ...
Power Steering Fluid (3.0L V6 Engine)
The power steering fluid reservoir is located toward the rear of the engine compartment on the passenger side of the vehicle. See Engine Compartment Overview on page 10‑6 for reservoir loc ...