Where Are the Airbags?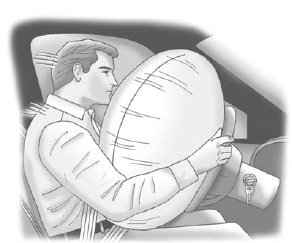 The driver airbag is in the middle of the steering wheel.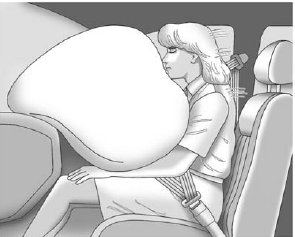 The right front passenger airbag is in the instrument panel on the passenger side.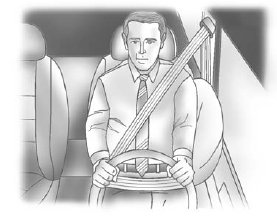 Driver Side Shown, Passenger Side Similar
If the vehicle has seat-mounted side impact airbags for the driver and right front passenger, they are in the side of the seatbacks closest to the door.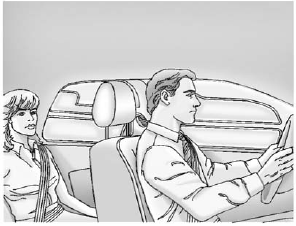 Driver Side Shown, Passenger Side Similar
If the vehicle has roof-rail airbags for the driver, right front passenger, and second row outboard passengers, they are in the ceiling above the side windows.
WARNING
If something is between an occupant and an airbag, the airbag might not inflate properly or it might force the object into that person causing severe injury or even death. The path of an inflating airbag must be kept clear. Do not put anything between an occupant and an airbag, and do not attach or put anything on the steering wheel hub or on or near any other airbag covering.
Do not use seat accessories that block the inflation path of a seat-mounted side impact airbag.
Never secure anything to the roof of a vehicle with roof-rail airbags by routing a rope or tie-down through any door or window opening. If you do, the path of an inflating roof-rail airbag will be blocked.
See also:
Recommended Transfer Case Settings
Notice: Driving on clean, dry pavement in four-wheel drive for an extended period of time can cause premature wear on the vehicle's powertrain. Do not drive on clean, dry pavement in Four-Wheel Driv ...
Making a Call
Calls can be made using the following commands. Dial or Call: The dial or call command can be used interchangeably to dial a phone number or a stored name tag. Digit Dial: This command allows a ph ...
Starter Switch Check
WARNING When you are doing this inspection, the vehicle could move suddenly. If the vehicle moves, you or others could be injured. 1. Before starting this check, be sure there is enough room aroun ...