Voltmeter Gauge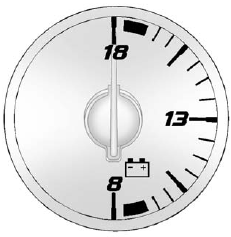 When the engine is not running, but the ignition is turned on, this gauge shows the battery's state of charge in DC volts.
When the engine is running, this gauge shows the condition of the charging system. The vehicle's charging system regulates voltage based on the state of charge of the battery. The voltmeter may fluctuate.
This is normal. Readings between the low and high warning zones indicate the normal operating range.
Readings in the low warning zone may occur when a large number of electrical accessories are operating in the vehicle and the engine is left idling for an extended period.
If there is a problem with the battery charging system, a SERVICE BATTERY CHARGING SYSTEM message will appear in the Driver Information Center (DIC) and/or the charging system light comes on.
See Battery Voltage and Charging Messages on page 5‑37 for more information.
However, readings in either warning zone may indicate a possible problem in the electrical system.
Have the vehicle serviced as soon as possible.
See also:
Radio Frequency Statement
This vehicle has systems that operate on a radio frequency that comply with Part 15 of the Federal Communications Commission (FCC) rules and with Industry Canada Standards RSS-GEN/210/220/310. Operat ...
Doing Your Own Service Work
If the vehicle is a hybrid, see the hybrid supplement for more information. WARNING You can be injured and the vehicle could be damaged if you try to do service work on a vehicle without knowing eno ...
Safety System Check
Now and then, check that the safety belt reminder light, safety belts, buckles, latch plates, retractors, and anchorages are all working properly. Look for any other loose or damaged safety belt syst ...