Manual Reclining Seatbacks
WARNING
You can lose control of the vehicle if you try to adjust a manual driver seat while the vehicle is moving. The sudden movement could startle and confuse you, or make you push a pedal when you do not want to.
Adjust the driver seat only when the vehicle is not moving.
WARNING
If either seatback is not locked, it could move forward in a sudden stop or crash. That could cause injury to the person sitting there.
Always push and pull on the seatbacks to be sure they are locked.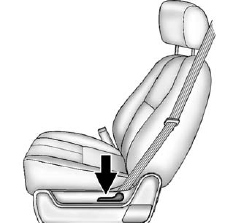 To adjust a manual seatback:
1. Lift the lever.
The seatback will automatically fold forward.
2. To recline, move the seatback rearward to the desired position, then release the lever to lock the seatback in place.
3. Push and pull on the seatback to make sure it is locked.
To return the seatback to the upright position:
1. Lift the lever fully without applying pressure to the seatback, and the seatback will return to the upright position.
2. Push and pull on the seatback to make sure it is locked.
See also:
Speedometer
The vehicle's speed can be selected to display on the Driver Information Center (DIC) and the speedometer in either kilometers per hour (km/h) or miles per hour (mph). Telltales on the speedom ...
Transferring a Call
Audio can be transferred between the Bluetooth system and the cell phone. The cell phone must be paired and connected with the Bluetooth system before a call can be transferred. The connection proces ...
Arming the System
To arm the system, do one of the following: ○ Press on the RKE transmitter. ○ Lock the vehicle using the key in the driver door. The alarm automatically arms after about 30 seconds. Th ...