License Plate Lamp
To replace one of these bulbs:
1. Open the liftgate partway. See Liftgate on page 2‑9.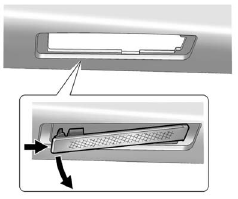 Passenger Side Shown, Driver Side Similar
2. Push the left end of the lamp assembly toward the right.
3. Pull the lamp assembly down to remove it from the liftgate.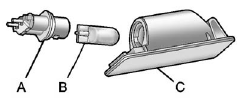 A. Bulb Socket
B. Bulb
C. Lamp Assembly
4. Turn the bulb socket (A) counterclockwise to remove it from the lamp assembly (C).
5. Pull the bulb (B) straight out of the bulb socket.
6. Push the replacement bulb straight into the bulb socket and turn the bulb socket clockwise to install into lamp assembly.
7. Turn the lamp assembly into the liftgate engaging the clip side first.
8. Push on the lamp side opposite the clip until the lamp assembly snaps into place.
See also:
Airbag System Messages
SERVICE AIR BAG This message displays if there is a problem with the airbag system. Have your dealer inspect the system for problems. See Airbag Readiness Light on page 5‑16 and Airbag System ...
Dolly Towing (Front-Wheel&- Drive Vehicles)
To tow the vehicle from the front with the rear wheels on the ground, do the following: 1. Put the front wheels on a dolly. 2. Move the shift lever to P (Park).. 3. Set the parking brake.. 4. ...
Cargo Box & Towing
One benefit of the Canyon's low ride height is that the cargo box is very accessible. Whether you have to lift something over the side of the box or load something with the tailgate down, the low- ...