Tire Designations
Tire Size
The following is an example of a typical passenger vehicle tire size.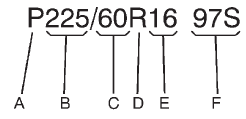 (A) Passenger (P-Metric) Tire:
The United States version of a metric tire sizing system.
The letter P as the first character in the tire size means a passenger vehicle tire engineered to standards set by the U.S. Tire and Rim Association.
(B) Tire Width: The three-digit number indicates the tire section width in millimeters from sidewall to sidewall.
(C) Aspect Ratio: A two-digit number that indicates the tire height-to-width measurements.
For example, if the tire size aspect ratio is 60, as shown in item C of the illustration, it would mean that the tire's sidewall is 60 percent as high as it is wide.
(D) Construction Code:
A letter code is used to indicate the type of ply construction in the tire. The letter R means radial ply construction; the letter D means diagonal or bias ply construction; and the letter B means belted-bias ply construction.
(E) Rim Diameter: Diameter of the wheel in inches.
(F) Service Description:
These characters represent the load index and speed rating of the tire. The load index represents the load carrying capacity a tire is certified to carry. The speed rating is the maximum speed a tire is certified to carry a load.
See also:
Care of Safety Belts
Keep belts clean and dry. WARNING Do not bleach or dye safety belts. It may severely weaken them. In a crash, they might not be able to provide adequate protection. Clean safety belts only with mi ...
How to Wear Safety Belts Properly
This section is only for people of adult size. There are special things to know about safety belts and children. And there are different rules for smaller children and infants. If a child will be rid ...
Protecting Exterior Bright Metal Parts
Regularly clean bright metal parts with water or chrome polish on chrome or stainless steel trim, if necessary. For aluminum, never use auto or chrome polish, steam, or caustic soap to clean. A coati ...