Off-Road Recovery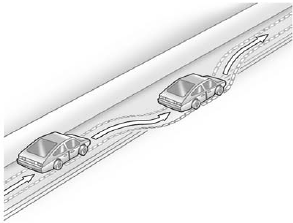 The vehicle's right wheels can drop off the edge of a road onto the shoulder while driving.
Follow these tips:
1. Ease off the accelerator and then, if there is nothing in the way, steer the vehicle so that it straddles the edge of the pavement.
2. Turn the steering wheel about one-eighth of a turn, until the right front tire contacts the pavement edge.
3. Then turn the steering wheel to go straight down the roadway.
See also:
Leaving After Parking on a Hill
1. Apply and hold the brake pedal while you: 1.1. Start the engine. 1.2. Shift into a gear. 1.3. Release the parking brake. 2. Let up on the brake pedal. 3. Drive slowly until the trailer is clea ...
Brake Assist
This vehicle has a brake assist feature designed to assist the driver in stopping or decreasing vehicle speed in emergency driving conditions. This feature uses the stability system hydraulic brak ...
General Information
For service and parts needs, visit your dealer. You will receive genuine GM parts and GM-trained and supported service people. Genuine GM parts have one of these marks: ...