Off-Road Recovery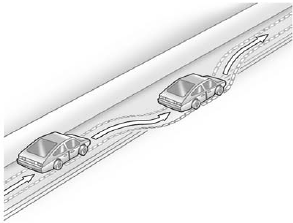 The vehicle's right wheels can drop off the edge of a road onto the shoulder while driving.
Follow these tips:
1. Ease off the accelerator and then, if there is nothing in the way, steer the vehicle so that it straddles the edge of the pavement.
2. Turn the steering wheel about one-eighth of a turn, until the right front tire contacts the pavement edge.
3. Then turn the steering wheel to go straight down the roadway.
See also:
Adjustable Throttle and Brake Pedal
On vehicles with this feature, you can change the position of the throttle and brake pedals. No adjustment to the pedals can be made when the vehicle is in R (Reverse) or while using cruise control. ...
Service Vehicle Messages
SERVICE AC SYSTEM This message is displayed if there is a problem with the air conditioning system. Take the vehicle to your dealer for service. SERVICE POWER STEERING This message is displayed i ...
TPMS Sensor Matching Process
Each TPMS sensor has a unique identification code. The identification code needs to be matched to a new tire/wheel position after rotating the tires or replacing one or more of the TPMS sensors. T ...