Off-Road Recovery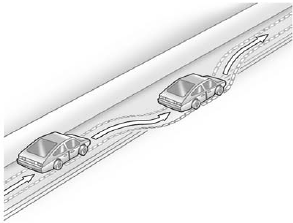 The vehicle's right wheels can drop off the edge of a road onto the shoulder while driving.
Follow these tips:
1. Ease off the accelerator and then, if there is nothing in the way, steer the vehicle so that it straddles the edge of the pavement.
2. Turn the steering wheel about one-eighth of a turn, until the right front tire contacts the pavement edge.
3. Then turn the steering wheel to go straight down the roadway.
See also:
What to Do with Used Oil
Used engine oil contains certain elements that can be unhealthy for your skin and could even cause cancer. Do not let used oil stay on your skin for very long. Clean your skin and nails with soap ...
How to Check Automatic Transmission Fluid
Because this operation can be a little difficult, it may be best to have this done at the dealer service department. If not taken to the dealer, be sure to follow all the instructions here or a false ...
Key and Lock Messages
REPLACE BATTERY IN REMOTE KEY This message displays when the battery in the Remote Keyless Entry (RKE) transmitter needs to be replaced. ...