Off-Road Recovery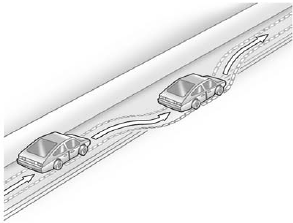 The vehicle's right wheels can drop off the edge of a road onto the shoulder while driving.
Follow these tips:
1. Ease off the accelerator and then, if there is nothing in the way, steer the vehicle so that it straddles the edge of the pavement.
2. Turn the steering wheel about one-eighth of a turn, until the right front tire contacts the pavement edge.
3. Then turn the steering wheel to go straight down the roadway.
See also:
Brake System Warning Light
The vehicle brake system consists of two hydraulic circuits. If one circuit is not working, the remaining circuit can still work to stop the vehicle. For normal braking performance, both circuits need ...
Remote Vehicle Start
The vehicle may have this feature that allows you to start the engine from outside the vehicle. (Remote Vehicle Start): This button will be on the RKE transmitter if the vehicle has remote start. ...
Scheduling Service Appointments (U.S. and Canada)
When the vehicle requires warranty service, contact your dealer and request an appointment. By scheduling a service appointment and advising the service consultant of your transportation needs, your d ...