Engine Cover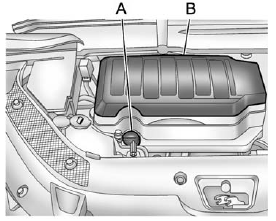 A. Oil Fill Cap
B. Engine Cover
To remove:
1. Remove the oil fill cap (A).
2. Raise the engine cover (B) to release it from the retainers.
3. Lift and remove the engine cover.
4. Reverse Steps 1 through 3 to reinstall engine cover.
See also:
Fuels in Foreign Countries
Never use leaded gasoline or any other fuel not recommended in the previous text on fuel. Costly repairs caused by use of improper fuel would not be covered by the vehicle warranty. To check the fuel ...
Cooling System
The cooling system allows the engine to maintain the correct working temperature. A. Engine Coolant Recovery Tank B. Radiator Pressure Cap C. Engine Cooling Fans (Out of View) WARNING An electr ...
Odometer
The odometer shows how far the vehicle has been driven, in either kilometers or miles. This vehicle has a tamper-resistant odometer. If the vehicle needs a new odometer installed, the new one is set ...