Fuel
Use of the recommended fuel is an important part of the proper maintenance of this vehicle. To help keep the engine clean and maintain optimum vehicle performance, we recommend the use of gasoline advertised as TOP TIER Detergent Gasoline.
Look for the TOP TIER label on the fuel pump to ensure gasoline meets enhanced detergency standards developed by auto companies. A list of marketers providing TOP TIER Detergent Gasoline can be found at www.toptiergas.com.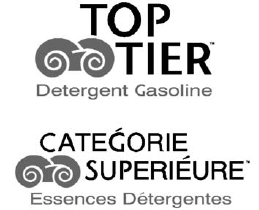 See also:
Low Fuel Warning Light
This light, under the fuel gauge, comes on briefly while the engine is being started. This light and a chime, if the vehicle is equipped with a radio, comes on when the fuel tank is low on fuel. T ...
Headlamp Aiming
Headlamp aim has been preset and should need no further adjustment. If the vehicle is damaged in a crash, the headlamp aim may be affected. If adjustment to the headlamps is necessary, see your deal ...
Head Restraint Adjustment
Do not drive until the head restraints for all occupants are installed and adjusted properly. To achieve a comfortable seating position, change the seatback recline angle as little as necessary w ...