Fuel
Use of the recommended fuel is an important part of the proper maintenance of this vehicle. To help keep the engine clean and maintain optimum vehicle performance, we recommend the use of gasoline advertised as TOP TIER Detergent Gasoline.
Look for the TOP TIER label on the fuel pump to ensure gasoline meets enhanced detergency standards developed by auto companies. A list of marketers providing TOP TIER Detergent Gasoline can be found at www.toptiergas.com.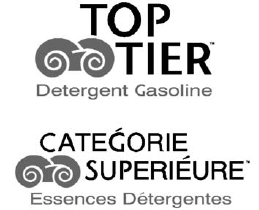 See also:
Sensors
The solar sensor, located in the defrost grille in the middle of the instrument panel, monitors the solar heat. Do not cover the solar sensor or the system will not work properly. The interior te ...
Fabric/Carpet
Start by vacuuming the surface using a soft brush attachment. If a rotating brush attachment is being used during vacuuming, only use it on the floor carpet. Before cleaning, gently remove as much o ...
Interior
Depending on their configurations, Savana passenger vans can carry eight, 12 or 15 occupants. Cargo vans seat only two people up front. The restyled interiors feature an upgraded climate-control s ...