Passenger Compartment Air Filter
The filter removes dust, pollen, and other airborne irritants from outside air and inside air when in recirculation mode.
To find out what type of replacement filter to use, see Maintenance Replacement Parts on page 11‑13.
1. Open the glove box.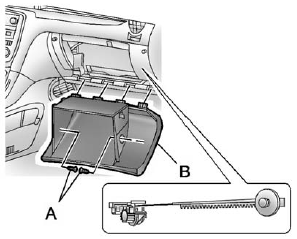 2. Twist the compartment retainers (A) and pull outward to remove.
3. Lower the instrument panel compartment assembly (B) beyond the stops.
4. If needed, unsnap the instrument panel compartment assembly (B) from the instrument panel. When reinstalling, be sure the instrument panel compartment dampener arm is aligned properly to the dampener gear assembly.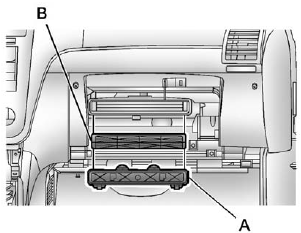 5. Squeeze the housing cover (A) tabs to remove.
6. Remove the old air filter from the passenger compartment air filter housing (B).
7. Install the new air filter.
8. Replace the housing cover.
9. If removed, reinstall the instrument panel compartment assembly.
10. Reinstall the compartment retainers.
See your dealer if additional assistance is needed.
See also:
Underbody Maintenance
Use plain water to flush dirt and debris from the vehicle's underbody. Your dealer or an underbody car washing system can do this. If not removed, rust and corrosion can develop. ...
Video Screen
The video screen is located in the overhead console. To use the video screen: 1. Push the release button located on the overhead console. 2. Move the screen to the desired position. When the video ...
Instrument Panel, Leather, Vinyl, & Other Plastic Surfaces
Use a soft microfiber cloth dampened with water to remove dust and loose dirt. For a more thorough cleaning, use a soft microfiber cloth dampened with a mild soap solution. Notice: Soaking or saturat ...