Passenger Compartment Air Filter
The filter removes dust, pollen, and other airborne irritants from outside air and inside air when in recirculation mode.
To find out what type of replacement filter to use, see Maintenance Replacement Parts on page 11‑13.
1. Open the glove box.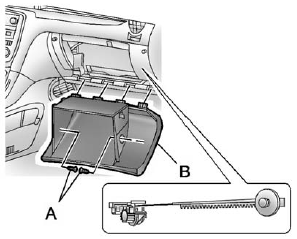 2. Twist the compartment retainers (A) and pull outward to remove.
3. Lower the instrument panel compartment assembly (B) beyond the stops.
4. If needed, unsnap the instrument panel compartment assembly (B) from the instrument panel. When reinstalling, be sure the instrument panel compartment dampener arm is aligned properly to the dampener gear assembly.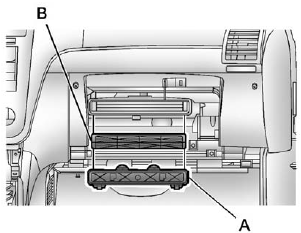 5. Squeeze the housing cover (A) tabs to remove.
6. Remove the old air filter from the passenger compartment air filter housing (B).
7. Install the new air filter.
8. Replace the housing cover.
9. If removed, reinstall the instrument panel compartment assembly.
10. Reinstall the compartment retainers.
See your dealer if additional assistance is needed.
See also:
Vehicle Messages
Messages displayed on the DIC indicate the status of the vehicle or some action may be needed to correct a condition. Multiple messages may appear one after another. The messages that do not require ...
StabiliTrakВ® System
The vehicle has a vehicle stability enhancement system called StabiliTrak. It is an advanced computer-controlled system that assists the driver with directional control of the vehicle in difficult dri ...
Brake Pedal Travel
See your dealer if the brake pedal does not return to normal height, or if there is a rapid increase in pedal travel. This could be a sign that brake service might be required. ...