Entering and Exiting the Third Row
WARNING
Using the third row seating position while the second row is folded, or folded and tumbled, could cause injury in a sudden stop or crash. Be sure to return the seat to the passenger seating position. Push and pull on the seat to make sure it is locked into place.
Notice: Folding a rear seat with the safety belts still fastened may cause damage to the seat or the safety belts. Always unbuckle the safety belts and return them to their normal stowed position before folding a rear seat.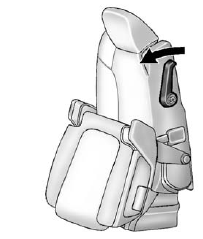 To access the third row:
1. Remove objects on the floor in front of or on the second row seat, or in the seat tracks on the floor.
2. Move the front center console armrest completely forward.
See Center Console Storage on page 4‑2.
3. Place the folding armrests in the upright position.
4. Make sure that the safety belt is unfastened and in the stowed position.
5. Pull the sliding seat lever (C) forward and move the seatback forward. The seat cushion will fold, and the entire seat will slide forward. The head restraints will fold out of the way automatically.
See also:
Symbols
The navigation system may have a feature that allows for viewing parking assist symbols on the navigation screen while using the RVC. The Ultrasonic Rear Park Assist (URPA) system must not be disabled ...
What to Use
Refer to Recommended Fluids and Lubricants on page 11‑12 to determine what kind of lubricant to use. ...
What to Use
WARNING Adding only plain water or some other liquid to the cooling system can be dangerous. Plain water and other liquids, can boil before the proper coolant mixture will. The coolant warning syste ...