Back–Up Lamp
Removal of the lamp assembly is not required to replace the back-up lamp bulb.
To replace one of these lamps:
1. Open the liftgate. See Liftgate on page 2‑9.
2. Remove the interior trim access panel.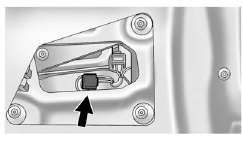 3. Turn the bulb socket counterclockwise and pull it out.
4. Pull the bulb straight out of the socket.
5. Install the new bulb.
6. Push the bulb socket in and turn it clockwise.
7. Reinstall the interior trim access panel.
See also:
Footnotes — Maintenance Schedule Additional Required Services — Severe
a) Extreme service. For vehicles mainly driven off-road in four-wheel drive or used in farming, mining, forestry, Department of Natural Resources (DNR), or snow plowing. b) Check all fuel and vapor l ...
Finish Care
Application of aftermarket clearcoat sealant/wax materials is not recommended. If painted surfaces are damaged, see your dealer to have the damage assessed and repaired. Foreign materials such as ...
Park Tilt Mirrors
If the vehicle has the memory package, the passenger and/or driver mirror tilts to a preselected position when the vehicle is in R (Reverse). This feature lets the driver view the curb when parallel p ...