Auxiliary Taillamp
To replace one of these lamps:
1. Open the liftgate. See Liftgate on page 2‑9.
2. Remove the interior trim access panel.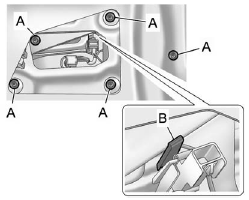 A. Attachment Nuts
B. Retaining Hook
3. Remove the five attachment nuts (A) securing the taillamp assembly to the liftgate.
4. Disengage the retaining hook (B) and pull the taillamp assembly out of the vehicle liftgate.
5. Disconnect the lamp wiring harness.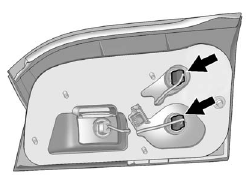 6. Turn the bulb socket counterclockwise and pull it out.
7. Pull the bulb straight out of the socket.
8. Install the new bulb.
9. Push the bulb socket in and turn it clockwise.
10. Reverse Steps 2 through 5 to reinstall lamp assembly.
See also:
Customer Assistance for Text Telephone (TTY) Users (U.S. and Canada)
To assist customers who are deaf, hard of hearing, or speech impaired and who use Text Telephones (TTYs), GMC has TTY equipment available at its Customer Assistance Center. Any TTY user can communicat ...
Pairing
A Bluetooth enabled cell phone must be paired to the Bluetooth system and then connected to the vehicle before it can be used. See the cell phone manufacturer's user guide for Bluetooth functions befo ...
Programming Universal Home Remote — Rolling Code
For questions or help programming the Universal Home Remote System, call 1-866-572-2728 or go to www.learcar2u.com. Most garage door openers sold after 1996 are Rolling Code units. Programming a gar ...