Headlamps, Front Turn Signal, Sidemarker, and Parking Lamps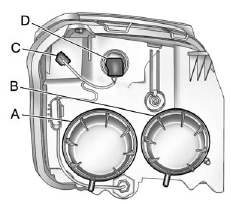 A. Low-Beam Headlamp
B. High-Beam Headlamp
C. Sidemarker Lamp
D. Park/Turn Signal Lamp
To replace one of these bulbs:
1. Turn the tire to reach the access port cap located in the front of wheel well cover.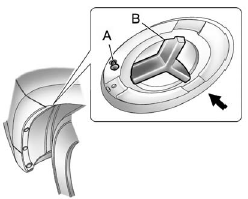 A. Screw
B. Access Port Cap
2. Remove the screw (A) and turn the access port cap (B) counterclockwise to remove.
3. If replacing a headlamp bulb, remove the dust cover cap from the back of the headlamp housing by turning the cap counterclockwise.
4. Turn the bulb socket counterclockwise to remove it from the lamp assembly.
5. Remove the bulb from the socket or disconnect the bulb assembly from the harness connector.
6. Install the new bulb.
7. Reinstall the bulb socket to the lamp assembly, turning clockwise.
8. Replace the dust cover cap on headlamps.
9. Reinstall the wheel well cover access port cap and secure by installing the screw.
See also:
When to Check Power Steering Fluid
The power steering fluid does not need to be checked unless there is a leak in the system or you hear an unusual noise. Have the system inspected and repaired if there is a fluid loss. ...
Retained Accessory Power (RAP)
The following vehicle accessories can be used for up to 10 minutes after the engine is turned off: • Audio System • Power Windows • OnStar System (if equipped) • Sunroof (if equipped) The ...
If Steam is Coming from the Engine Compartment
WARNING Steam from an overheated engine can burn you badly, even if you just open the hood. Stay away from the engine if you see or hear steam coming from it. Just turn it off and get everyone aw ...