Headlamps, Front Turn Signal, Sidemarker, and Parking Lamps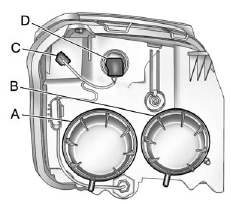 A. Low-Beam Headlamp
B. High-Beam Headlamp
C. Sidemarker Lamp
D. Park/Turn Signal Lamp
To replace one of these bulbs:
1. Turn the tire to reach the access port cap located in the front of wheel well cover.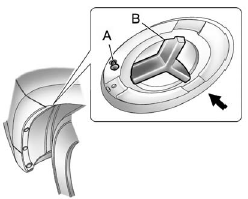 A. Screw
B. Access Port Cap
2. Remove the screw (A) and turn the access port cap (B) counterclockwise to remove.
3. If replacing a headlamp bulb, remove the dust cover cap from the back of the headlamp housing by turning the cap counterclockwise.
4. Turn the bulb socket counterclockwise to remove it from the lamp assembly.
5. Remove the bulb from the socket or disconnect the bulb assembly from the harness connector.
6. Install the new bulb.
7. Reinstall the bulb socket to the lamp assembly, turning clockwise.
8. Replace the dust cover cap on headlamps.
9. Reinstall the wheel well cover access port cap and secure by installing the screw.
See also:
Instrument Panel, Vinyl, and Other Plastic Surfaces
Use a soft microfiber cloth dampened with water to remove dust and loose dirt. For a more thorough cleaning, use a soft microfiber cloth dampened with a mild soap solution. Notice: Soaking or saturat ...
Resetting the Power Foldaway Mirrors
Reset the power foldaway mirrors if: • The mirrors are accidentally obstructed while folding. • They are accidentally manually folded/unfolded. • The mirrors will not stay in the unfolded pos ...
Adjusting the Seats
To adjust the second row seats, pull outward on the seat adjustment handle (A). Slide the seat forward or rearward to the desired position. Release the handle, and push and pull on the seat to make s ...