Cooling System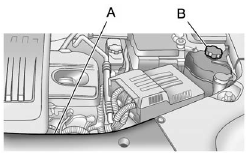 2.4L L4 Engine
A. Engine Cooling Fan (Out of View)
B. Engine Coolant Surge Tank and Pressure Cap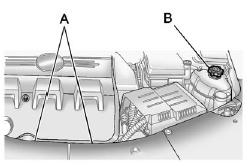 3.0L V6 Engine
A. Engine Cooling Fans (Out of View)
B. Engine Coolant Surge Tank and Pressure Cap
WARNING
An electric engine cooling fan under the hood can start up even when the engine is not running and can cause injury. Keep hands, clothing, and tools away from any underhood electric fan.
If the coolant inside the coolant surge tank is boiling, do not do anything else until it cools down. The vehicle should be parked on a level surface.
The coolant level should be at the COLD FILL line. If it is not, the vehicle may have a leak at the radiator hoses, heater hoses, radiator, water pump, or somewhere else in the cooling system.
WARNING
Heater and radiator hoses, and other engine parts, can be very hot. Do not touch them. If you do, you can be burned.
Do not run the engine if there is a leak. If you run the engine, it could lose all coolant. That could cause an engine fire, and you could be burned. Get any leak fixed before you drive the vehicle.
If there seems to be no leak, with the engine on, check to see if the electric engine cooling fan is running. If the engine is overheating, the fan should be running. If it is not, the vehicle needs service. Turn off the engine.
Notice: Using coolant other than DEX-COOL® can cause premature engine, heater core, or radiator corrosion. In addition, the engine coolant could require changing sooner, at 50 000 km (30,000 mi) or 24 months, whichever occurs first. Any repairs would not be covered by the vehicle warranty. Always use DEX-COOL (silicate-free) coolant in the vehicle.
See also:
Extended Cab
On vehicles with a sunroof, the sunroof only operates when the ignition is in the ACC/ACCESSORY or ON/RUN or the Retained Accessory Power (RAP) is active. See Retained Accessory Power (RAP) on page ...
Place a Call Using a Stored Number
1. Push . System responds: "OnStar ready." 2. Say "Call <name tag>." System responds: "OK, calling <name tag>." Verify Minutes and Expiration Push and say "minutes" t ...
Removing the Flat Tire and Installing the Spare Tire
Use the following pictures and instructions to remove the flat tire and raise the vehicle. A. Jack B. Wheel Blocks C. Jack Handle D. Jack Handle Extension E. Wheel Wrench The tools you will be ...