Selecting the Alert Timing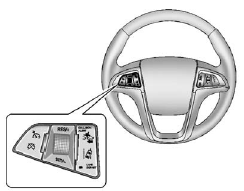 The Collision Alert control is on the steering wheel. Press COLLISION ALERT to set the alert timing to far, medium, near or off. The first button press shows the current control setting on the DIC. Additional button presses will change this setting. The chosen setting will remain until it is changed and will affect both the Collision Alert and the Tailgating Alert features. The timing of both alerts will vary based on vehicle speed. The faster the vehicle speed, the further away the alert will occur. Consider traffic and weather conditions when selecting the alert timing. The range of selectable alert timing may not be appropriate for all drivers and driving conditions.
See also:
Radio Frequency Statement
This vehicle has systems that operate on a radio frequency that comply with Part 15 of the Federal Communications Commission (FCC) rules and with Industry Canada Standards RSS-GEN/210/220/310. Operat ...
End a Call
Push . System responds: "Call ended." ...
Drunk Driving
Death and injury associated with drinking and driving is a global tragedy. WARNING Drinking and then driving is very dangerous. Your reflexes, perceptions, attentiveness, and judgment can be affec ...