Turn and Lane-Change Signals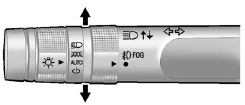 An arrow on the instrument panel cluster will flash in the direction of the turn or lane change.
Move the lever all the way up or down to signal a turn.
Raise or lower the lever until the arrow starts to flash to signal a lane change. Hold it there until the lane change is complete. If the lever is briefly pressed and released, the turn signal flashes three times.
The lever returns to its starting position when it is released.
If after signaling a turn or a lane change the arrows flash rapidly or do not come on, a signal bulb may be burned out.
Have the bulbs replaced. If the bulb is not burned out, check the fuse; see Fuses on page 10‑38 for more information.
See also:
Connecting a USB Storage Device or iPod®
The USB port can be used to control an iPod or a USB storage device. To connect a USB storage device, connect the device to the USB port located in the center console or on the instrument panel. To ...
Windshield Replacement
If the vehicle is equipped with the Head-Up display (HUD) system and the windshield needs to be replaced, get one that is designed for HUD or the HUD image may look out of focus. ...
Vehicle Storage
WARNING Batteries have acid that can burn you and gas that can explode. You can be badly hurt if you are not careful. See Jump Starting on page 10‑92 for tips on working around a battery witho ...