Driving with the Blind Spot Mirror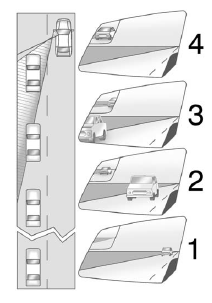 Actual Mirror View
1. When the approaching vehicle is a long distance away, the image in the main mirror is small and near the inboard edge of the mirror.
2. As the vehicle gets closer, the image in the main mirror gets larger and moves outboard.
3. As the vehicle enters the blind zone, the image transitions from the main mirror to the blind spot mirror.
4. When the vehicle is in the blind zone, the image only appears in the blind spot mirror.
See also:
Consistency of Readings
Always check the fluid level at least twice using the procedure described previously. Consistency (repeatable readings) is important to maintaining proper fluid level. If readings are still inconsiste ...
Engine Oil Messages
CHANGE ENGINE OIL SOON This message displays when the engine oil needs to be changed. When you change the engine oil, be sure to reset the CHANGE ENGINE OIL SOON message. See Engine Oil Life System ...
Audio Output
Audio from the DVD player or auxiliary inputs can be heard through the following: ○ Wireless Headphones ○ Vehicle Speakers The RSE system transmits the audio signal to the wireless head ...