Rear Towing (Rear Wheels Off the Ground)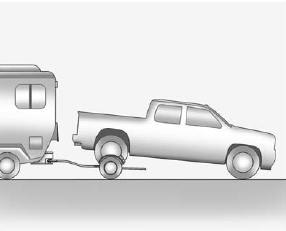 Two-Wheel-Drive Vehicles
Use the following procedure to dolly tow a two-wheel-drive vehicle from the rear:
1. Attach the dolly to the tow vehicle following the dolly manufacturer's instructions.
2. Drive the rear wheels onto the dolly.
3. Firmly set the parking brake.
See Parking Brake on page 9‑58.
4. Put the transmission in P (Park).
5. Secure the vehicle to the dolly following the manufacturer's instructions.
6. Use an adequate clamping device designed for towing to ensure that the front wheels are locked into the straight position.
7. Turn the ignition to LOCK/OFF.
See also:
Turn Signals When Towing a Trailer
The turn signal indicators on the instrument panel flash whenever signaling a turn or lane change. Properly hooked up, the trailer lamps also flash, telling other drivers the vehicle is turning, c ...
Global Positioning System (GPS)
• Obstruction of the GPS can occur in a large city with tall buildings; in parking garages; around airports; in tunnels, underpasses, or parking garages; or in an area with very dense trees. If GPS ...
Pairing Information
• A Bluetooth phone with MP3 capability cannot be paired to the vehicle as a phone and an MP3 player at the same time. • Up to five cell phones can be paired to the Bluetooth system. • The pai ...