Cruise Control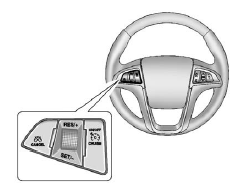 ON/OFF

CRUISE : Press to turn the cruise control system on and off.

CANCEL : Press to disengage cruise control without erasing the set speed from memory.
RES/+: Move the thumbwheel up to make the vehicle resume to a previously set speed or to accelerate.
SET/− : Move the thumbwheel down toward SET/- to set a speed and activate cruise control, or to make the vehicle decelerate.
See also:
Floor Console Storage
For vehicles with a second row center console, open each area to access the storage compartment inside. To access the upper storage area, press the upper button (B) and lift up. To access the low ...
Front Axle
The front axle engages and disengages automatically when you shift the transfer case. Some delay for the axle to engage or disengage is normal. ...
Two-Tiered Loading
Depending on the model of your pick-up, an upper load platform can be created by positioning three or four 5 cm (2 inches) by 15 cm (6 inches) wooden planks across the width of the pickup box. The pla ...