Cruise Control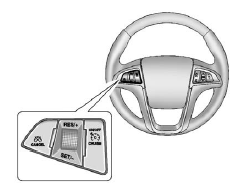 ON/OFF

CRUISE : Press to turn the cruise control system on and off.

CANCEL : Press to disengage cruise control without erasing the set speed from memory.
RES/+: Move the thumbwheel up to make the vehicle resume to a previously set speed or to accelerate.
SET/− : Move the thumbwheel down toward SET/- to set a speed and activate cruise control, or to make the vehicle decelerate.
See also:
Multi-Band Antenna
The multi-band antenna is located on the roof of the vehicle. This type of antenna is used with the AM/FM radio, as well as OnStar and the XM Satellite Radio Service System, if the vehicle has these f ...
Vehicle Symbol Chart
Here are some additional symbols that may be found on the vehicle and what they mean. For more information on the symbol, refer to the Index. Airbag Readiness Light Air Conditioning ...
Canceling a Remote Start
To cancel a remote start: • Aim the RKE transmitter at the vehicle and press and hold until the parking lamps turn off. • Turn on the hazard warning flashers. • Turn the ignition on and t ...