Windows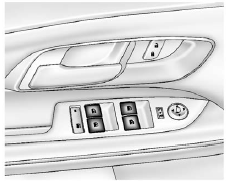 Press the front of the switch to lower the window. Pull the switch up to raise it.
Pushing or pulling the switch part of the way will open or close the window as long as the switch is operated.
See also:
Filling the Tank
If the vehicle has a diesel engine, see the Duramax diesel supplement for more information. WARNING Fuel vapor burns violently and a fuel fire can cause bad injuries. To help avoid injuries to you ...
Finish Care
Application of aftermarket clearcoat sealant/wax materials is not recommended. If painted surfaces are damaged, see your dealer to have the damage assessed and repaired. Foreign materials such as ...
Traction Control System (TCS)
The vehicle has a Traction Control System (TCS) that limits wheel spin. On a front-wheel-drive vehicle, the system operates if it senses that one or both of the front wheels are spinning or beginn ...