Engine Coolant Temperature Gauge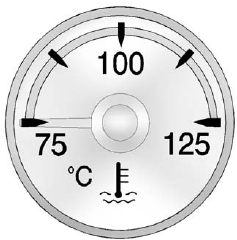 Metric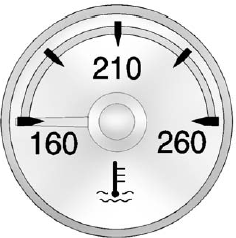 English
This gauge shows the engine coolant temperature.
It also provides an indicator of how hard the vehicle is working. During a majority of the operation, the gauge reads 100°C (210°F) or less.
If pulling a load or going up hills, it is normal for the temperature to fluctuate and go over the 113°C (235°F) mark. If the gauge reaches the 125°C (260°F) mark, it indicates that the cooling system is working beyond its capacity.
See Engine Overheating on page 10‑23.
If the vehicle is a hybrid, see the hybrid supplement for more information.
See also:
Warning Lights, Gauges, and Indicators
Warning lights and gauges can signal that something is wrong before it becomes serious enough to cause an expensive repair or replacement. Paying attention to the warning lights and gauges could p ...
Connecting a USB Storage Device or iPod®
To connect a USB storage device, connect the device to the USB port located in the instrument panel storage area. See Instrument Panel Storage on page 4‑1 for more information. The USB port c ...
Tire Rotation
Tires should be rotated every 12 000 km (7,500 mi). See Maintenance Schedule on page 11‑3. Tires are rotated to achieve a uniform wear for all tires. The first rotation is the most important. ...