Manual Reclining Seatbacks
WARNING
You can lose control of the vehicle if you try to adjust a manual driver seat while the vehicle is moving. The sudden movement could startle and confuse you, or make you push a pedal when you do not want to.
Adjust the driver seat only when the vehicle is not moving.
WARNING
If either seatback is not locked, it could move forward in a sudden stop or crash. That could cause injury to the person sitting there.
Always push and pull on the seatbacks to be sure they are locked.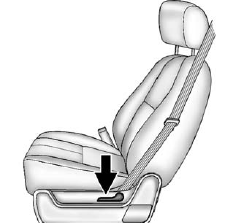 To adjust a manual seatback:
1. Lift the lever.
The seatback will automatically fold forward.
2. To recline, move the seatback rearward to the desired position, then release the lever to lock the seatback in place.
3. Push and pull on the seatback to make sure it is locked.
To return the seatback to the upright position:
1. Lift the lever fully without applying pressure to the seatback, and the seatback will return to the upright position.
2. Push and pull on the seatback to make sure it is locked.
See also:
Recommended Fuel
Use regular unleaded gasoline with a posted octane rating of 87 or higher. If the octane rating is less than 87, an audible knocking noise, commonly referred to as spark knock, might be heard when dri ...
Tire Rotation and Required Services Every 12 000 km/7,500 mi
Rotate the tires, if recommended for the vehicle, and perform the following services. See Tire Rotation on page 10‑68. • Check engine oil level and oil life percentage. If needed, change engi ...
Under the Hood
Both the four-cylinder and V-6 engines use direct-injection technology. An Eco mode, which is activated by a dashboard button, alters drivetrain calibrations in the four-cylinder to maximize fuel ...