Manual Lumbar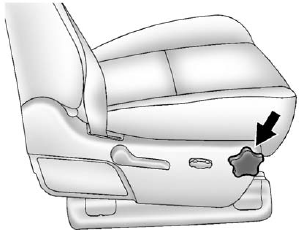 Manual Lumbar
If equipped, increase or decrease manual lumbar support by turning the knob forward or rearward.
See also:
When to Check
Check the tires once a month or more. Do not forget the spare tire, if the vehicle has one. SeeFull-Size Spare Tire on page 10‑91 for additional information. ...
Speedometer
The speedometer shows how fast the vehicle is moving in either kilometers per hour (km/h) or miles per hour (mph). The speedometer cannot be reset. ...
Owner Checks and Services
At Each Fuel Stop ○ Check the engine oil level. See Engine Oil on page 10‑10. Once a Month ○ Check the tire inflation pressures. See Tire Pressure on page 10‑51. ○ In ...