Power Mirrors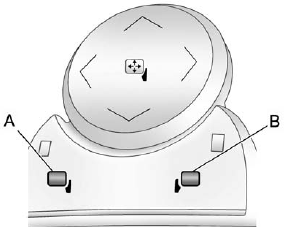 Vehicles with outside power mirrors have controls located on the driver door.
To adjust each mirror:
1. Press (A) or (B) to select the driver or passenger side mirror.
2. Press the arrows on the control pad to move the mirror up, down, right, or left.
3. Adjust the outside mirror so that the side of the vehicle and the area behind are seen.
4. Press either (A) or (B) again to deselect the mirror.
See also:
Steering Wheel Controls
Vehicles with audio steering wheel controls could differ depending on the vehicle's options. Some audio controls can be adjusted at the steering wheel. and (Next/Previous): Press to select pres ...
Testing the Alarm
To test the alarm: 1. Lower the driver window and open the driver door. 2. Press lock on the RKE transmitter. 3. Close the door and wait for the security light to go out. 4. Reach in through the w ...
Rear Climate Control System (Rear Climate Control Only)
A. Fan Control B. Temperature Control C. Air Delivery Mode Control For vehicles with the rear climate control system, the controls are located on the rear of the center console. The system can al ...