Safety Locks
The vehicle has rear door security locks to prevent passengers from opening the rear doors from the inside.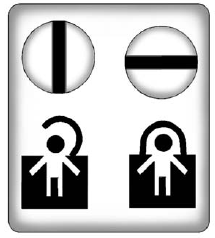 Open the rear doors to access the security locks on the inside edge of each door.
To set the locks, insert a key into the slot and turn it to the horizontal position. The door can only be opened from the outside with the door unlocked. To return the door to normal operation, turn the slot to the vertical position.
See also:
Washer Fluid Messages
WASHER FLUID LOW ADD FLUID This message displays when the windshield washer fluid is low. Fill the windshield washer fluid reservoir as soon as possible. See Engine Compartment Overview on page 10 ...
DVD Display Error Messages
The DVD display error message depends on which radio the vehicle has. The video screen might display one of the following: Disc Load/Eject Error: This message displays when there are disc load or eje ...
Adding Equipment to the Airbag-Equipped Vehicle
Q: Is there anything I might add to or change about the vehicle that could keep the airbags from working properly? A: Yes. If you add things that change the vehicle's frame, bumper system, heig ...