Cruise Control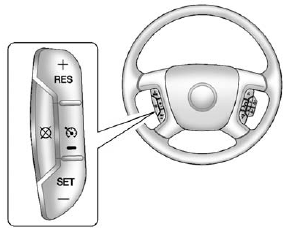 Cruise Control

: Press to turn the system on or off. The indicator light is on when cruise control is on and turns off when cruise control is off.

: Press briefly to make the vehicle resume to a previously set speed, or press and hold to accelerate.

: Press to set the speed and activate cruise control or make the vehicle decelerate.

: Press to disengage cruise control without erasing the set speed from memory.
See Cruise Control on page 9‑63.
See also:
Engine Hours
Press the vehicle information button until ENGINE HOURS displays. This display shows the total number of hours the engine has run. ...
Transmission Temperature
Press the trip/fuel button until TRANS TEMP displays. This display shows the temperature of the automatic transmission fluid in either degrees Celsius (°C) or degrees Fahrenheit (°F). ...
Removing the Flat Tire and Installing the Spare Tire
1. Do a safety check before proceeding. See If a Tire Goes Flat on page 10‑65 for more information. 2. For vehicles with a wheel cover or center cap, pull the cover or center cap away from ...