Dual Automatic Climate Control System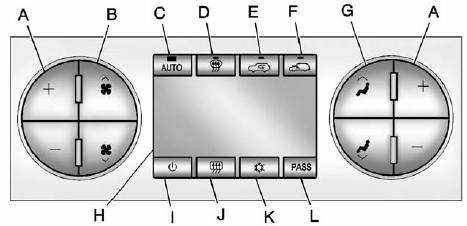 Dual Automatic Climate Control System
A. Driver and Passenger Temperature Controls
B. Fan Control
C. AUTO
D. Defrost
E. Air Recirculation
F. Outside Air
G. Air Delivery Mode Control
H. Display
I. Power Button
J. Rear Window Defogger
K. Air Conditioning
L. PASS (Passenger)
See Dual Automatic Climate Control System on page 8‑5.
See also:
Radio Frequency Statement
This vehicle has systems that operate on a radio frequency that comply with Part 15 of the Federal Communications Commission (FCC) rules and with Industry Canada Standards RSS-GEN/210/220/310. Operat ...
If a Tire Goes Flat
It is unusual for a tire to blow out while driving, especially if the tires are maintained properly. See Tires on page 10‑37. If air goes out of a tire, it is much more likely to leak out slowly ...
Finding a Station
To select the band, see "Audio Source" earlier in this section. Turn the MENU/SEL knob to find a radio station. To select a preset station, touch the FAV button and choose a preset station. Se ...