Footnotes — Maintenance Schedule Additional Required Services — Normal
a) Or every two years, whichever comes first. More frequent replacement may be needed if the vehicle is driven in areas with heavy traffic, areas with poor air quality, or areas with high dust levels.
Replacement may also be needed if there is a reduction in air flow, excessive window fogging, or odors.
b) Check all fuel and vapor lines and hoses for proper hook-up, routing, and condition. Check that the purge valve, if the vehicle has one, works properly. Replace as needed.
c) Or every four years, whichever comes first.
d) Do not directly power wash the transfer case output seals. High pressure water can overcome the seals and contaminate the transfer case fluid. Contaminated fluid will decrease the life of the transfer case and should be replaced.
e) Or every five years, whichever comes first. See Cooling System on page 10‑14.
f) Or every 10 years, whichever comes first. Inspect for fraying, excessive cracking, or damage;
replace, if needed.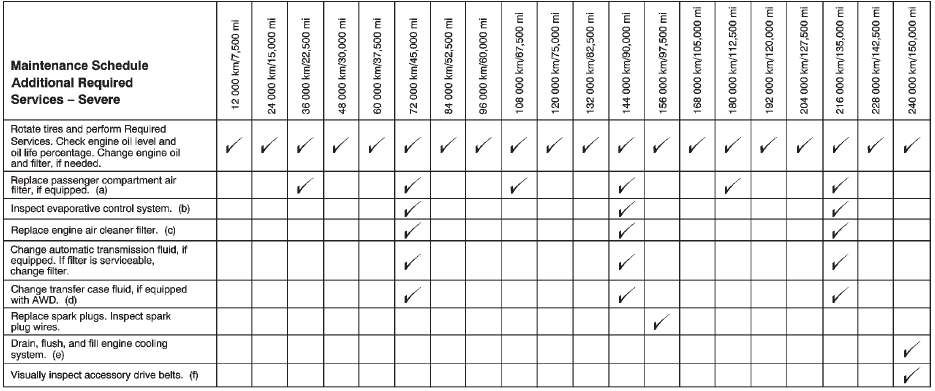 See also:
ZQ8 Complements V-8
The ZQ8 sport suspension is as significant as the V-8 engine in making this version of the Canyon a credible muscle truck. The firmer suspension package lowers the Canyon by an inch compared to th ...
Windshield Replacement
If the vehicle is equipped with the Head-Up display (HUD) system and the windshield needs to be replaced, get one that is designed for HUD or the HUD image may look out of focus. ...
Theft-Deterrent Feature
The theft-deterrent feature works by learning a portion of the Vehicle Identification Number (VIN) to the infotainment system. The infotainment system does not operate if it is stolen or moved to ...