Knob Retainer
Floor mats with a knob retainer.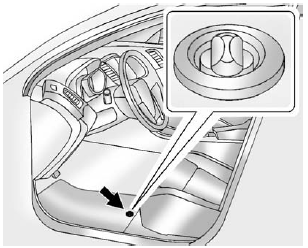 Removing and Replacing the Floor Mat
1. Turn the knob until it is aligned with the slot in the floor mat grommet.
2. Pull up on the floor mat.
3. Center the slot in the floor mat grommet with the knob on the floor and set into position.
4. Turn the knob until it is perpendicular to the slot in the grommet to lock the mat in place.
5. Make sure the floor mat is properly secured and verify that it does not interfere with the pedals.
See also:
Engine Oil Pressure Light
WARNING Do not keep driving if the oil pressure is low. The engine can become so hot that it catches fire. Someone could be burned. Check the oil as soon as possible and have the vehicle serviced ...
Tire Rotation and Required Services Every 12 000 km/7,500 mi
Rotate the tires, if recommended for the vehicle, and perform the following services. See Tire Rotation on page 10‑68. • Check engine oil level and oil life percentage. If needed, change engi ...
Engine Oil Life System
The engine oil life system calculates engine oil life based on vehicle use and displays the CHANGE ENGINE OIL SOON message when it is time to change the engine oil and filter. The oil life system sho ...