Storing the Flat Tire
1. Remove the cable package from the jack storage area.
2. Remove the small center cap by tapping the back of the cap with the extension of the shaft, if the vehicle has aluminum wheels.
3. Put the flat tire in the rear storage area with the valve stem pointing toward the rear of the vehicle.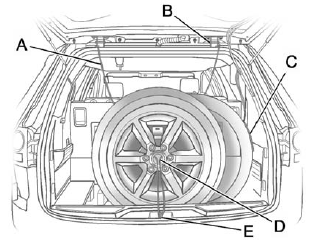 A. Cable
B. Liftgate Hinges
C. Spare Tire Heat Shield
D. Center of the Wheel
E. Door Striker
4. Pull the cable (A) through the door striker (E), the center of the wheel (D), and the plastic spare tire heat shield (C), as shown.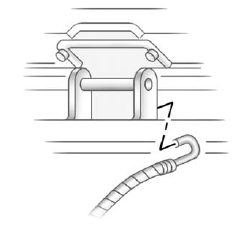 5. Hook the cable onto the outside portion of the liftgate hinges (B).
6. Hook the other end of the cable onto the outside portion of the liftgate hinge on the other side of the vehicle.
7. Pull on the cable to make sure it is secure.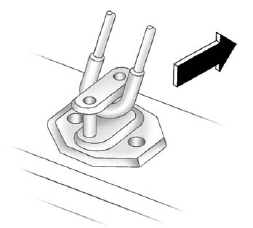 8. Make sure the metal tube is centered at the striker. Push the tube toward the front of the vehicle.
9. Close the liftgate and make sure it is latched properly.
See also:
Traction Off Light
This light comes on briefly while starting the engine. If it does not, have the vehicle serviced by your dealer. If the system is working normally, the indicator light then turns off. The tract ...
Collision Damage Repair (U.S. and Canada)
If the vehicle is involved in a collision and it is damaged, have the damage repaired by a qualified technician using the proper equipment and quality replacement parts. Poorly performed collision rep ...
Overview
All-new 2010 GMC Terrain makes its world debut at the 2009 New York International Auto Show. The GMC Terrain is a five-passenger crossover SUV that blends bold styling with fuel efficiency and pre ...