Removing the Spare Tire
The compact spare tire is located under the vehicle, in front of the rear bumper. See Compact Spare Tire on page 10‑77 for more information.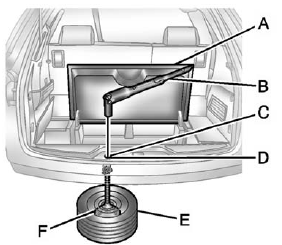 A. Rear Convenience Center
B. Wrench (Three-Piece Shown, One-Piece Similar)
C. Carpet Cutout
D. Hoist Shaft
E. Compact Spare Tire
F. Retainer
1. Open the storage compartment door of the convenience center (A) that is nearest the liftgate.
2. Open the carpet cutout (C) that is located through the hole of the storage compartment.
3. Attach the wrench (B) into the hoist shaft (D).
4. Turn the wrench (B) counterclockwise to lower the spare tire (E) to the ground.
Continue turning the wrench until the spare tire can be pulled out from under the vehicle.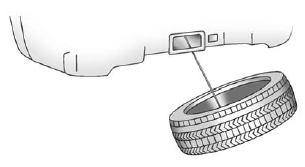 5. Tilt the retainer and slip it through the wheel opening to remove the spare tire from the cable.
6. Turn the wrench clockwise to raise the cable back up after removing the spare tire.
Do not store a full-size or a flat road tire under the vehicle.
See "Storing the Spare Tire" and "Storing the Flat Tire" later in this section.
See also:
Tires
Use a stiff brush with tire cleaner to clean the tires. Notice: Using petroleum-based tire dressing products on the vehicle may damage the paint finish and/or tires. When applying a tire dressing, al ...
Consistency of Readings
Always check the fluid level at least twice using the procedure described previously. Consistency (repeatable readings) is important to maintaining proper fluid level. If readings are still inconsiste ...
Preprogrammed Playlists
Preprogrammed playlists created using WinAmp™, MusicMatch™, or Real Jukebox™ software can be accessed; however, they cannot be edited using the radio. These playlists are treated as special fold ...