Removing Tools
The tools needed to remove the spare tire are located in the storage compartment on the driver side, at the rear of the vehicle.
1. Open the jack storage compartment by pulling on the latch tab, located toward the rear of the vehicle, and pulling the cover off.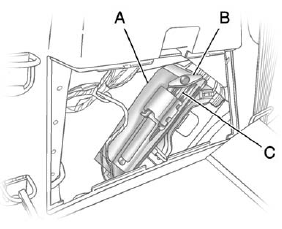 A. Tool Bag
B. Wing Bolt
C. Jack
2. Remove the wing bolt (B) by turning it counterclockwise.
3. Push the jack (C) up out of the holding bracket and remove the tool bag (A).
4. Turn the jack on its side, with the bottom facing toward you.
5. Pull the jack straight out, bottom first.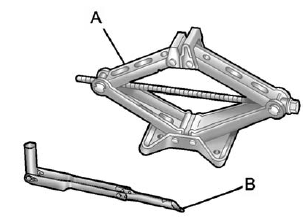 A. Jack
B. Wrench (Three-Piece Shown, One-Piece Similar)
The tools you will be using include the jack (A) and wrench (B).
See also:
Safety Belt Messages
BUCKLE SEATBELT This message displays as a reminder when the safety belt is not buckled. ...
DVD Display Error Messages
The video screen may display one of the following error messages: Disc Load/Eject Error or Mechanical Error: There are disc load or eject problems. Disc Format Error or Unknown Format: The disc is i ...
Making a Call
Calls can be made using the following commands. Dial or Call: The dial or call command can be used interchangeably to dial a phone number or a stored name tag. Digit Dial: This command allows a ph ...