Fuel
Use of the recommended fuel is an important part of the proper maintenance of this vehicle. To help keep the engine clean and maintain optimum vehicle performance, we recommend the use of gasoline advertised as TOP TIER Detergent Gasoline.
Look for the TOP TIER label on the fuel pump to ensure gasoline meets enhanced detergency standards developed by auto companies. A list of marketers providing TOP TIER Detergent Gasoline can be found at www.toptiergas.com.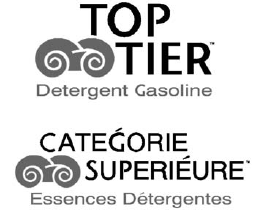 See also:
Canyon V-8 in the Market
There aren't many factory-spec street trucks available, as manufacturers mostly choose to design sport versions of their trucks for offroad adventures, not blacktop performance. That decision is a ...
Replacing LATCH System Parts After a Crash
WARNING A crash can damage the LATCH system in the vehicle. A damaged LATCH system may not properly secure the child restraint, resulting in serious injury or even death in a crash. To help make sure ...
Tire Terminology and Definitions
Air Pressure: The amount of air inside the tire pressing outward on each square inch of the tire. Air pressure is expressed in kPa (kilopascal) or psi (pounds per square inch). Accessory Weight: The ...