Off-Road Recovery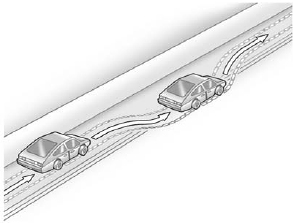 The vehicle's right wheels can drop off the edge of a road onto the shoulder while driving.
Follow these tips:
1. Ease off the accelerator and then, if there is nothing in the way, steer the vehicle so that it straddles the edge of the pavement.
2. Turn the steering wheel about one-eighth of a turn, until the right front tire contacts the pavement edge.
3. Then turn the steering wheel to go straight down the roadway.
See also:
Defensive Driving
Defensive driving means "always expect the unexpected." The first step in driving defensively is to wear the safety belt. See Safety Belts on page 3‑15. • Assume that other road users (pe ...
Battery
Refer to the replacement number on the original battery label when a new battery is needed. WARNING Battery posts, terminals, and related accessories contain lead and lead compounds, chemicals k ...
Danger, Warnings, and Cautions
Warning messages found on vehicle labels and in this manual describe hazards and what to do to avoid or reduce them. Danger indicates a hazard with a high level of risk which will result in serious i ...