Off-Road Recovery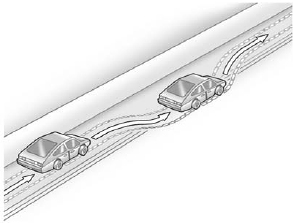 The vehicle's right wheels can drop off the edge of a road onto the shoulder while driving.
Follow these tips:
1. Ease off the accelerator and then, if there is nothing in the way, steer the vehicle so that it straddles the edge of the pavement.
2. Turn the steering wheel about one-eighth of a turn, until the right front tire contacts the pavement edge.
3. Then turn the steering wheel to go straight down the roadway.
See also:
Driving in Mud, Sand, Snow, or Ice
Use a low gear when driving in mud – the deeper the mud, the lower the gear. Keep the vehicle moving to avoid getting stuck. Traction changes when driving on sand. On loose sand, such as on beaches ...
Using Softkeys to Control a USB Storage Device or iPod
The five softkeys below the radio display are used to control the functions listed below. To use the softkeys: 1. Press the first or fifth softkey below the radio display to display the functions li ...
What to Use
To determine what kind of fluid to use, see Recommended Fluids and Lubricants on page 11‑12. Always use the proper fluid. Notice: Use of the incorrect fluid may damage the vehicle and the damag ...