Passenger Compartment Air Filter
The filter removes dust, pollen, and other airborne irritants from outside air and inside air when in recirculation mode.
To find out what type of replacement filter to use, see Maintenance Replacement Parts on page 11‑13.
1. Open the glove box.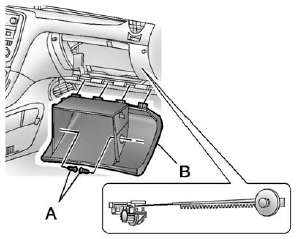 2. Twist the compartment retainers (A) and pull outward to remove.
3. Lower the instrument panel compartment assembly (B) beyond the stops.
4. If needed, unsnap the instrument panel compartment assembly (B) from the instrument panel. When reinstalling, be sure the instrument panel compartment dampener arm is aligned properly to the dampener gear assembly.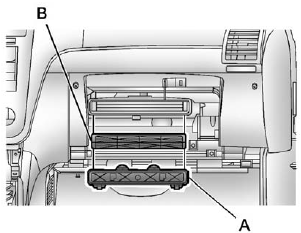 5. Squeeze the housing cover (A) tabs to remove.
6. Remove the old air filter from the passenger compartment air filter housing (B).
7. Install the new air filter.
8. Replace the housing cover.
9. If removed, reinstall the instrument panel compartment assembly.
10. Reinstall the compartment retainers.
See your dealer if additional assistance is needed.
See also:
Video Screen Input Jack
Each video screen is equipped with a video input jack to allow video cables to be connected from an auxiliary device such as a camcorder or a video game system. This signal will override any video ...
Satellite Radio
XM is a satellite radio service based in the 48 contiguous United States and 10 Canadian provinces. XM satellite radio has a wide variety of programming and commercial-free music, coast to coast, and ...
Filling the Tank
WARNING Fuel vapor burns violently and a fuel fire can cause bad injuries. To help avoid injuries to you and others, read and follow all the instructions on the fuel pump island. Turn off the eng ...