Engine Coolant Temperature Gauge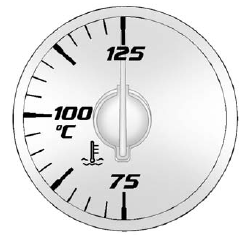 Metric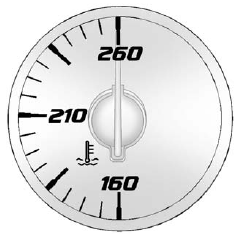 English
This gauge shows the engine coolant temperature. Under normal driving conditions the gauge will read approximately 100°C (210°F) or less. If the gauge pointer is near 125°C (260°F), the engine is too hot.
It means that the engine coolant has overheated. If the vehicle has been operating under normal driving conditions, pull off the road, stop the vehicle, and turn off the engine as soon as possible.
See Engine Overheating on page 10‑18 for more information.
See also:
Tire Chains
WARNING Do not use tire chains. There is not enough clearance. Tire chains used on a vehicle without the proper amount of clearance can cause damage to the brakes, suspension, or other vehicle parts. ...
Fuel
For diesel engine vehicles, see "Fuel for Diesel Engines" in the Duramax Diesel Supplement. For Vehicles with gasoline engines, please read this. ...
Special Application Services
• Severe Commercial Use Vehicles Only: Lubricate chassis components every 5 000 km/3,000 mi. • Have underbody flushing service performed once a year. ...