Power Outlet 120 Volt Alternating Current
The vehicle may have a power outlet that can be used to plug in electrical equipment that uses a maximum limit of 150 watts.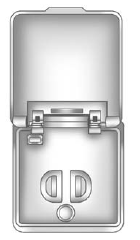 The power outlet is located on the rear of the center console.
An indicator light on the outlet turns on to show it is in use. The light comes on when the ignition is in ON/RUN and equipment requiring less than 150 watts is plugged into the outlet, and no system fault is detected.
If equipment is connected using more than 150 watts or a system fault is detected, a protection circuit shuts off the power supply and the indicator light turns off. To reset the circuit, unplug the item and plug it back in or turn the Retained Accessory Power (RAP) off and then back on. See Retained Accessory Power (RAP) on page 9‑20. The power restarts when equipment using 150 watts or less is plugged into the outlet and a system fault is not detected.
The power outlet is not designed for and may not work properly, if the following are plugged in:
• Equipment with high initial peak wattage such as:
compressor-driven refrigerators and electric power tools.
• Other equipment requiring an extremely stable power supply such as:
microcomputer-controlled electric blankets, touch sensor lamps, etc.
See High Voltage Devices and Wiring on page 10‑30.
See also:
Instrument Panel, Vinyl, and Other Plastic Surfaces
Use a soft microfiber cloth dampened with water to remove dust and loose dirt. For a more thorough cleaning, use a soft microfiber cloth dampened with a mild soap solution. Notice: Soaking or saturat ...
Convex Mirrors
WARNING A convex mirror can make things, like other vehicles, look farther away than they really are. If you cut too sharply into the right lane, you could hit a vehicle on the right. Check the insid ...
Off-Road Driving
Four-wheel-drive vehicles can be used for off-road driving. Vehicles without four-wheel drive and vehicles not equipped with All Terrain (AT) or On-Off Road (OOR) tires must not be driven off-road exc ...