Cargo Management System
This vehicle has a cargo management system located in the rear.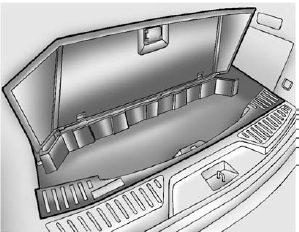 To remove the cargo management cover:
1. Open the cover. It remains open when lifted.
2. Pull the cover up making sure to unhook the hinges at the rear of the cover.
WARNING
An improperly latched and closed cargo cover, or cargo cover left in the open position, could be thrown about the vehicle during a crash or sudden maneuver.
Someone could be injured.
Be sure to return the cover to the closed position and latch before driving. If the cover is removed, always store it outside of the vehicle. When it is replaced, always be sure that it is securely reattached.
3. Remove the cover from the vehicle and store outside of the vehicle.
See also:
Steering, Suspension, and Chassis Components
Visually inspect front and rear suspension and steering system for damaged, loose, or missing parts or signs of wear. Inspect the power steering for proper hook-up, binding, leaks, cracks, chafing, et ...
Trademarks and License Agreements
Manufactured under license under U.S. Patent #'s: 5,451,942; 5,956,674; 5,974,380; 5,978,762; 6,487,535 & other U.S. and worldwide patents issued & pending. DTS and the Symbol are registered ...
Immobilizer Operation
This vehicle has a passive theft-deterrent system. The system does not have to be manually armed or disarmed. The vehicle is automatically immobilized when the key is removed from the ignition. Th ...