Safety Belt Use During Pregnancy
Safety belts work for everyone, including pregnant women. Like all occupants, they are more likely to be seriously injured if they do not wear safety belts.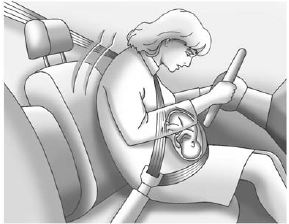 A pregnant woman should wear a lap-shoulder belt, and the lap portion should be worn as low as possible, below the rounding, throughout the pregnancy.
The best way to protect the fetus is to protect the mother. When a safety belt is worn properly, it is more likely that the fetus will not be hurt in a crash. For pregnant women, as for anyone, the key to making safety belts effective is wearing them properly.
See also:
Place a Call Using a Stored Number
1. Push . System responds: "OnStar ready." 2. Say "Call <name tag>." System responds: "OK, calling <name tag>." Verify Minutes and Expiration Push and say "minutes" t ...
Tires
Tires need to be properly inflated, rotated, and balanced. Maintaining the tires can save money, fuel, and can reduce the risk of tire failure. • Signs that the tires need to be replaced include th ...
Brake System Warning Light
With the ignition on, the brake system warning light comes on when the parking brake is set. If the vehicle is driven with the parking brake engaged, a chime sounds when the vehicle speed is greater t ...