Folding the Seatback
Notice: Folding a rear seat with the safety belts still fastened may cause damage to the seat or the safety belts. Always unbuckle the safety belts and return them to their normal stowed position before folding a rear seat.
To fold the third row seatback:
1. Remove anything on or under the seat.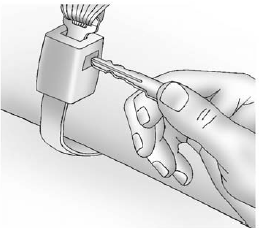 2. Disconnect the rear safety belt mini-latch using a key in the slot on the mini-buckle, and let the belt retract into the headliner.
Stow the mini-latch in the holder in the headliner.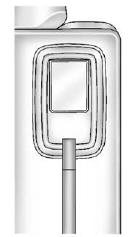 3. Pull up on the release lever on the back of the seat.
4. Push the seatback forward to lay flat.
See also:
Engine Compartment Overview
2.4L L4 Engine A. Engine Air Cleaner/Filter on page 10‑14. B. Engine Cover on page 10‑9. C. Engine Oil Dipstick (Out of View). See Engine Oil on page 10‑10. D. Engine Oil Fill ...
How to Reset the Engine Oil Life System
Reset the system whenever the engine oil is changed so that the system can calculate the next engine oil change. To reset the system: 1. Turn the ignition to ON/RUN, with the engine off. 2. Press ...
Conditions in Which the Remote Start Will Not Work
The vehicle cannot be started using the remote start feature if the key is in the ignition, the hood is open, or if there is an emission control system malfunction. The engine turns off during a remo ...