Seat Adjustment
WARNING
You can lose control of the vehicle if you try to adjust a manual driver seat while the vehicle is moving. The sudden movement could startle and confuse you, or make you push a pedal when you do not want to.
Adjust the driver seat only when the vehicle is not moving.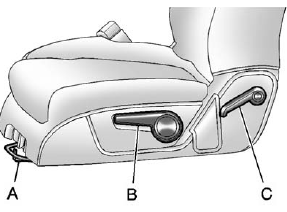 A. Seat Adjustment Handle
B. Driver Seat Height Adjustment Lever
C. Seatback Lever
To adjust a manual seat:
1. Lift the handle (A) under the seat to unlock it.
2. Slide the seat to the desired position, and then release the handle.
3. Try to move the seat back and forth to be sure it is locked in place.
Move the lever (B) up or down to raise or lower the seat.
Use the lever (C) to adjust the seatback. See Reclining Seatbacks on page 3‑5.
See also:
Canadian Vehicle Owners
Propriétaires Canadiens A French language copy of this manual can be obtained from your dealer or from: On peut obtenir un exemplaire de ce guide en français auprès du concessio ...
Driving with a Trailer
Towing a trailer requires experience. Get familiar with handling and braking with the added trailer weight. The vehicle is now longer and not as responsive as the vehicle is by itself. Check all ...
Safety Belt Extender
If the vehicle's safety belt will fasten around you, you should use it. But if a safety belt is not long enough, your dealer will order you an extender. When you go in to order it, take the heaviest ...