Power Liftgate
On vehicles with a power liftgate, the vehicle must be in P (Park) to operate. The taillamps flash and a chime sounds when the power liftgate moves.
WARNING
You or others could be injured if caught in the path of the power liftgate. Make sure there is no one in the way of the liftgate as it is opening and closing.
The power liftgate can be power opened and closed in the following ways:
• Press and hold

on the RKE transmitter. See Remote Keyless Entry (RKE) System Operation on page 2‑3.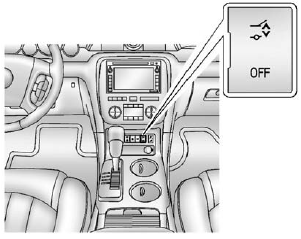 • Press

.
• Press the touch pad on the outside liftgate handle.
Pressing the buttons or touch pad a second time while the liftgate is moving reverses the direction.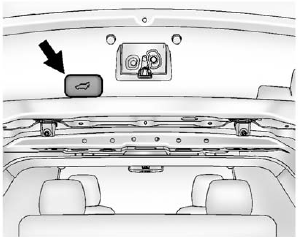 Power Liftgate Touch Pad
The liftgate can also be closed by pressing

next to the liftgate latch. Press

a second time during the liftgate operation to reverse the operation.
The power liftgate may be temporarily disabled under extreme temperatures or under low battery conditions. If this occurs, the liftgate can be operated manually.
If the vehicle is shifted out of P (Park) while the liftgate power function is in progress, it will continue to completion. If the vehicle is shifted out of P (Park) and accelerated before the power liftgate latch closes, the liftgate may reverse to the open position.
Cargo could fall out of the vehicle.
Always make sure the power liftgate is closed and latched before driving away.
If the power liftgate is used and the liftgate support struts have lost pressure, the taillamps will flash and a chime will sound. The liftgate will stay open temporarily, and then slowly close. See a dealer for service before using the liftgate if this occurs.
See also:
Airbag On-Off Switch
If one of the switches pictured in the following illustrations is located in the glove box, the vehicle has an airbag on-off switch that you can use to manually turn on or off the right front passenge ...
Tire Messages
TIRE LOW ADD AIR TO TIRE On vehicles with the Tire Pressure Monitor System (TPMS), this message displays when the pressure in one or more of the vehicle's tires is low. This message also displays LE ...
Interior Glass
To clean, use a terry cloth fabric dampened with water. Wipe droplets left behind with a clean dry cloth. Commercial glass cleaners may be used, if necessary, after cleaning the interior glass with p ...