Steering Wheel Controls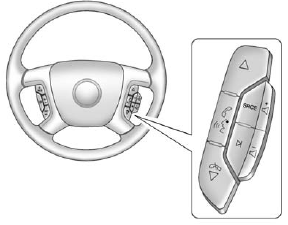 Steering Wheel Controls

or

: Press to change favorite radio stations, select tracks on a CD/DVD, or navigate tracks or folders on an iPod® or USB device.

: Press to silence the vehicle speakers only. Press again to turn the sound on. Press and hold longer than two seconds to interact with OnStar® or Bluetooth systems.

and

: Increase or decrease volume.

: Press to reject an incoming call, or to end a call.
SRCE: Press to switch between the radio, CD, and for equipped vehicles, DVD, front auxiliary, and rear auxiliary.

: Press to seek the next radio station, track, or chapter while sourced to the CD or DVD slot, or to select tracks and folders on an iPod® or USB device.
For more information, see Steering Wheel Controls on page 5‑2.
See also:
If No Steam is Coming from the Engine Compartment
The ENGINE OVERHEATED STOP ENGINE or the ENGINE OVERHEATED IDLE ENGINE message, along with a low coolant condition, can indicate a serious problem. If there is an engine overheat warning, but no stea ...
When to Add Engine Oil
If the oil is below the cross-hatched area at the tip of the dipstick, add 1 L (1 qt) of the recommended oil and then recheck the level. See "Selecting the Right Engine Oil" in this section for ...
How to Inspect the Engine Air Cleaner/Filter
To inspect the air cleaner/filter, remove the engine air cleaner/filter from the vehicle by following Steps 1 through 6. When the engine air cleaner/filter is removed, lightly shake it to release loos ...